Automated Music Composition

By Phil Winsor

ISBN 0-929398-38-6 paper $24.95

7 x 10. 312 pp. Index.

Publication Date: June 1992.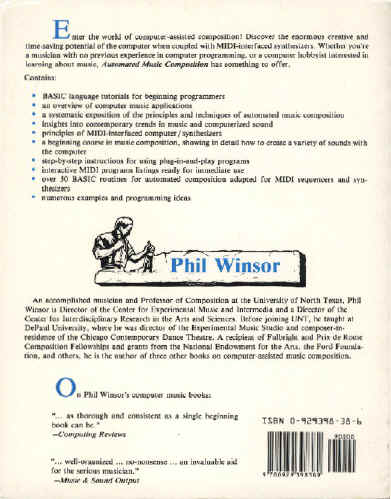 On Phil Winsor's computer music books:
". . . well-organized . . . no-nonsense . . . an invaluable aid for the serious musician."—Music & Sound Output
Whether you're a musician with no previous experience in computer programming, or a computer hobbyist interested in learning about music, Automated Music Composition has something to offer.
The book contains BASIC language tutorials for beginning programmers; an overview of computer music applications; a systematic exposition of the principles and techniques of automated music composition; insights into contemporary trends in music and computerized sound; principles of MIDI-interfaced computer/synthesizers; a beginning course in music composition, showing in detail how to create a variety of sounds with the computer; step-by-step instructions for using plug-in-and-play programs; interactive MIDI programs listings ready for immediate use; over 50 BASIC routines for automated composition adapted for MIDI sequencers and synthesizers; numerous examples and programming ideas.
An accomplished musician and Professor of Composition at the University of North Texas, PHIL WINSOR has served as Director of the Center for Experimental Music and Intermedia and Director of the Center for Interdisciplinary Research in the Arts and Sciences. He is the author of three other books on computer-assisted music composition.